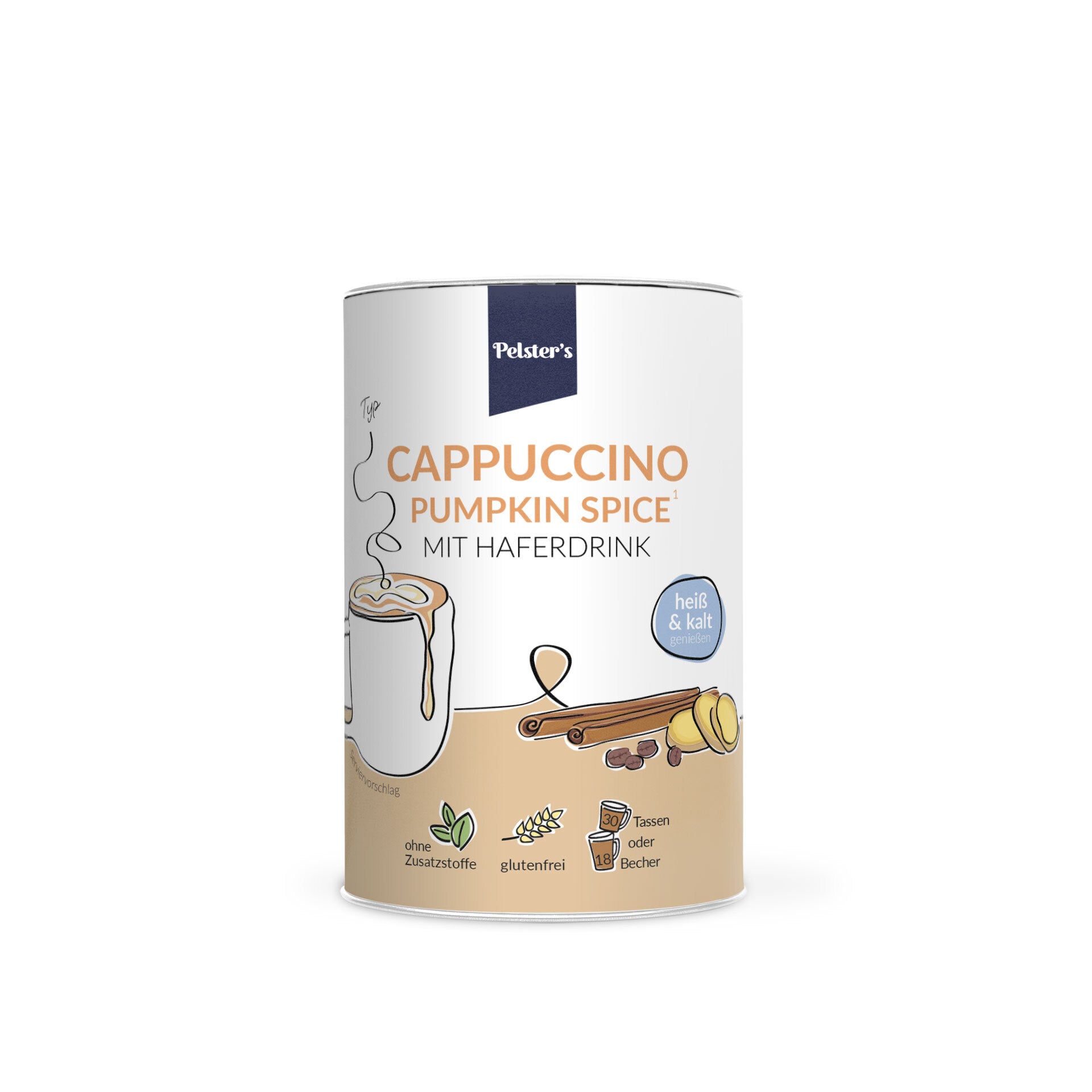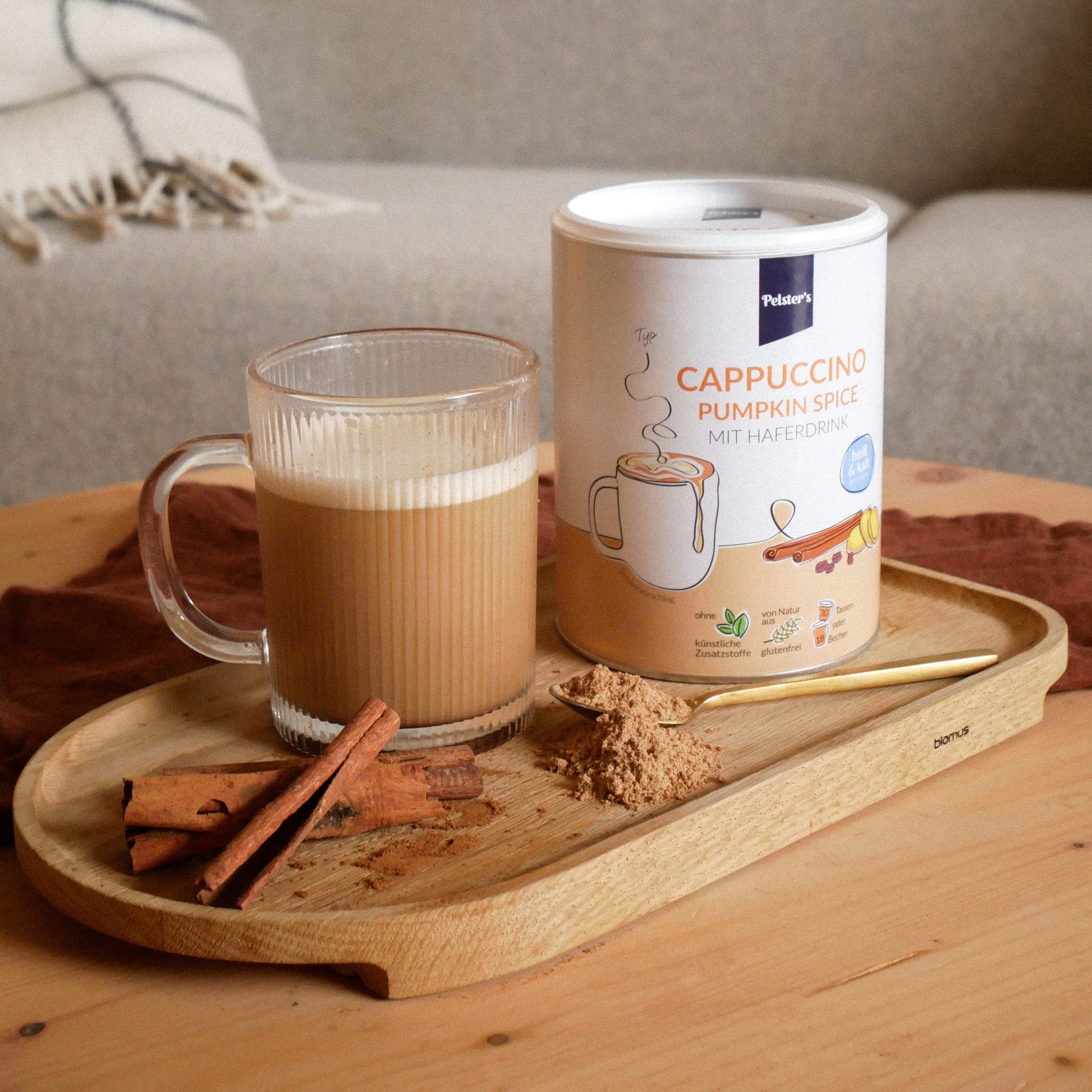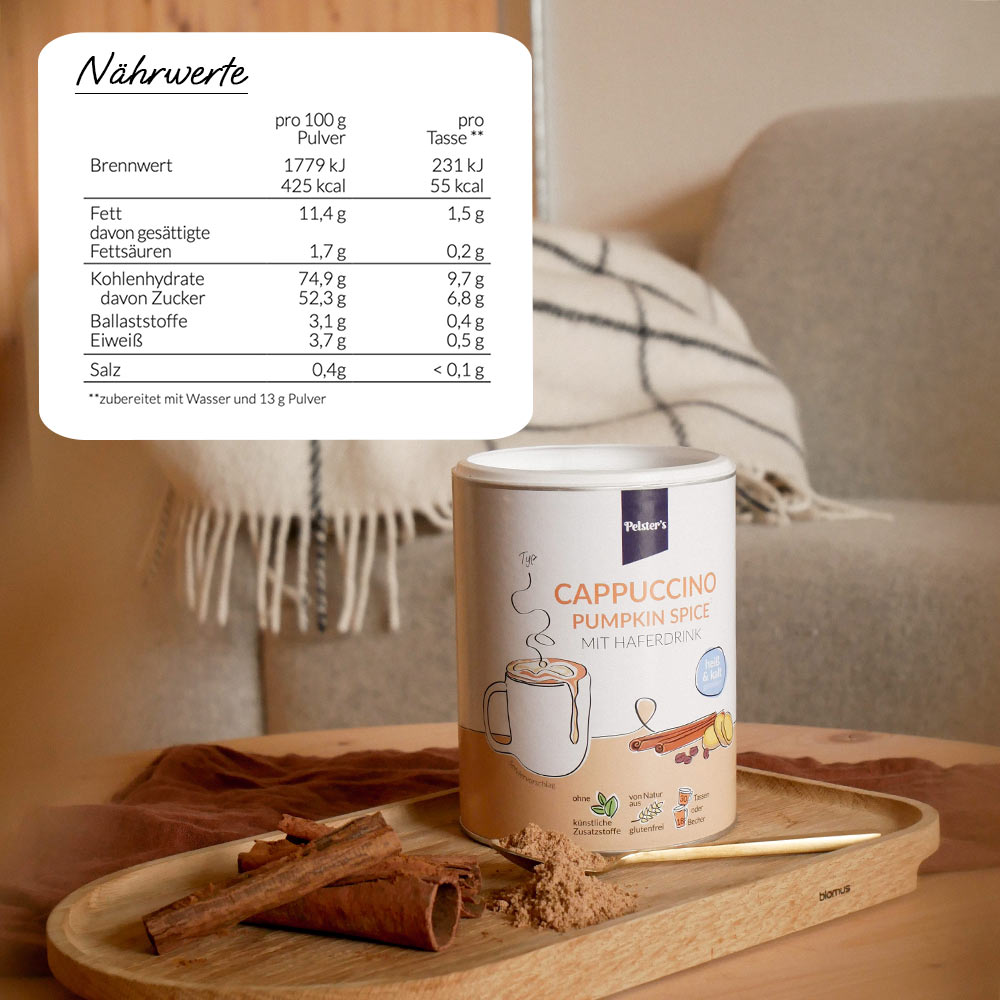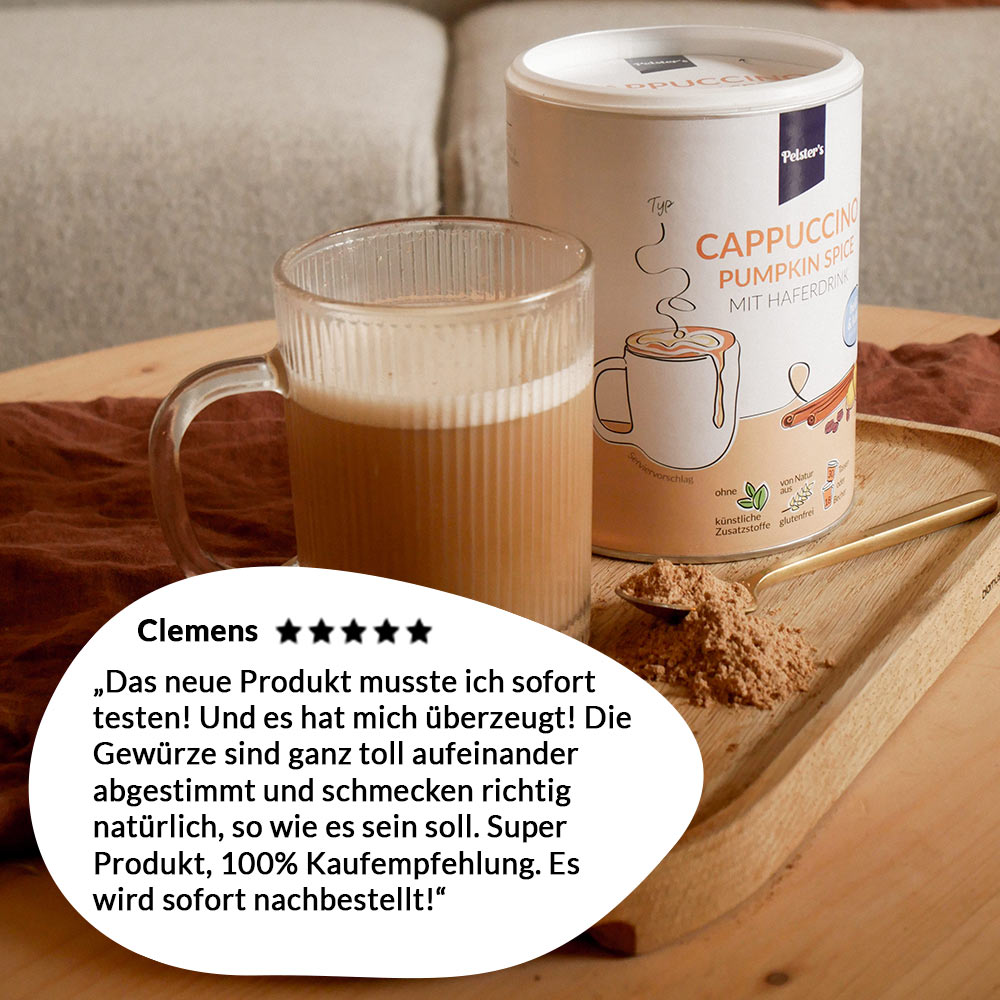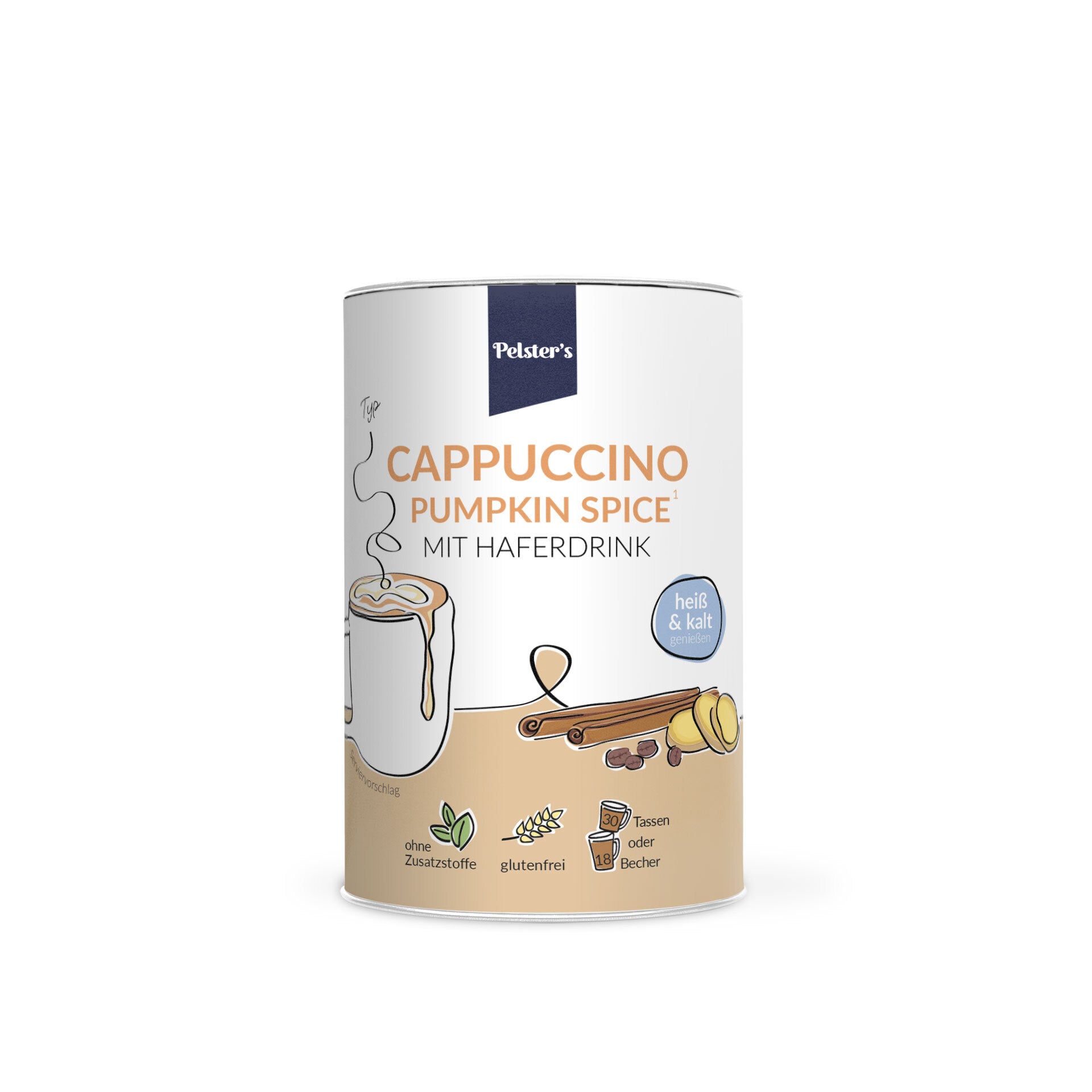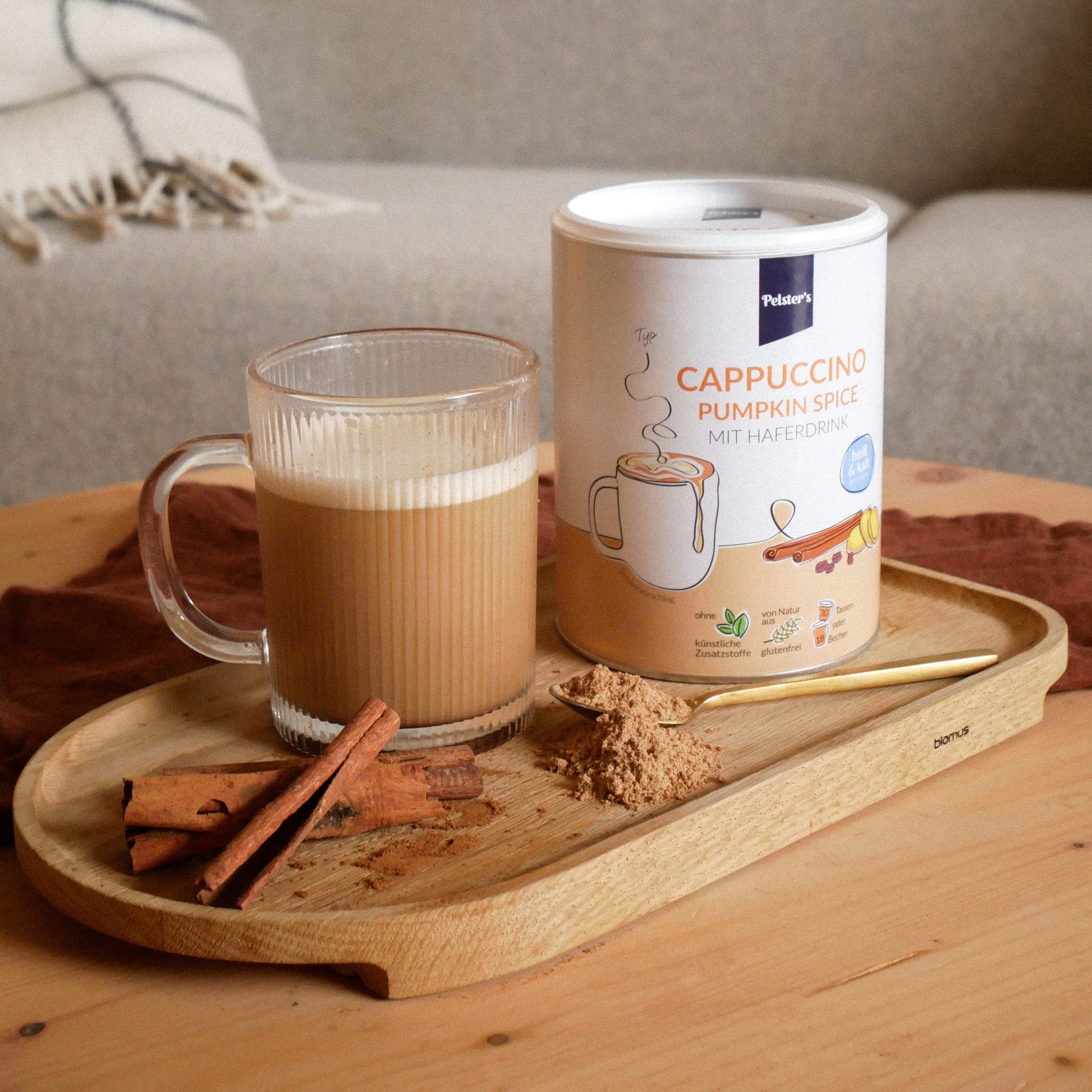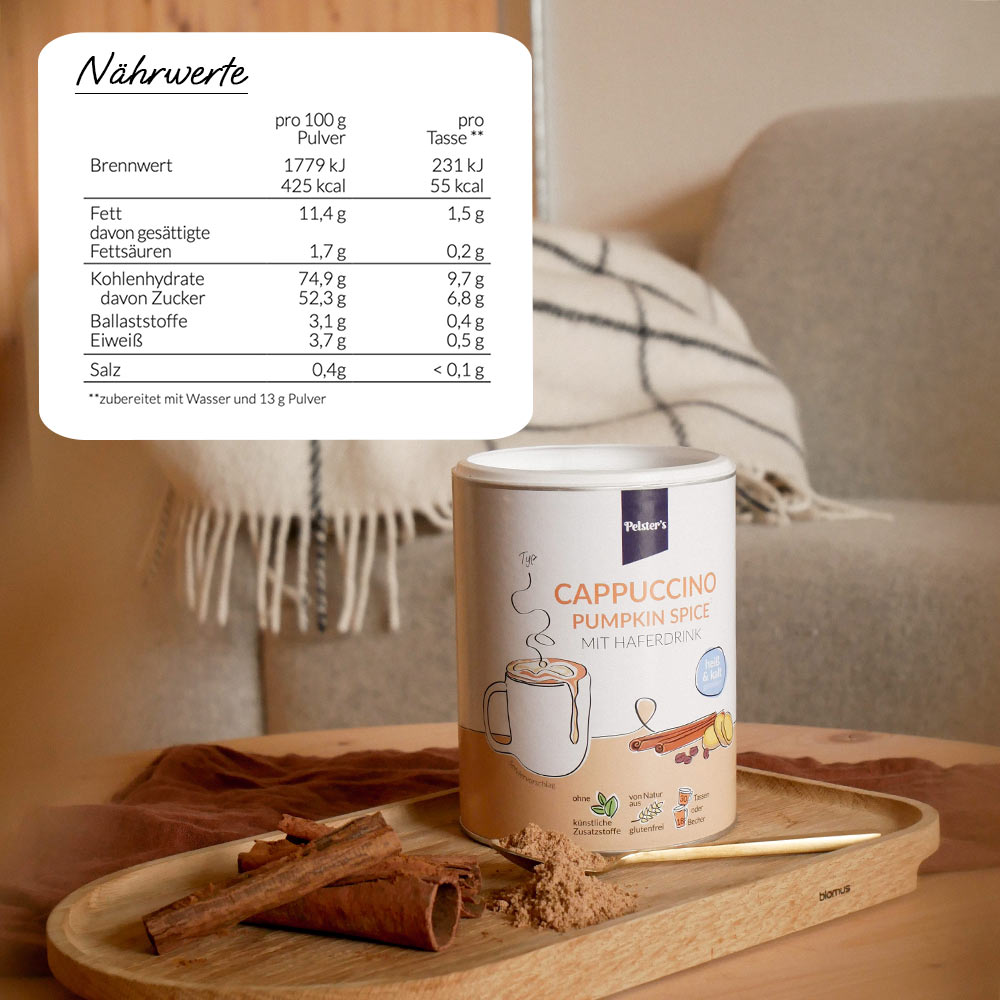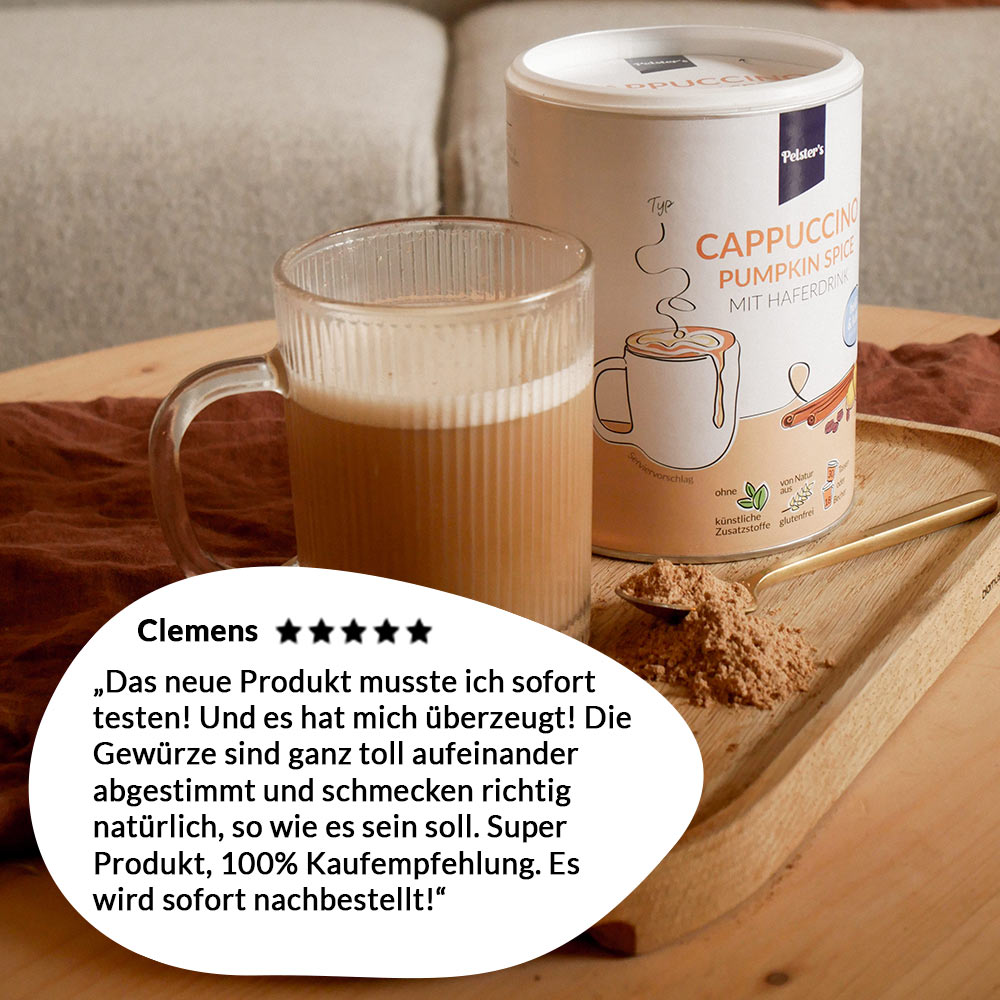 Cappuccino pumpkin spice with oat drink
Sale price
14,95 €
Regular price
Tax included.
✓ 30% less sugar
✓ from €0.47 per serving
✓ free from additives
✓ vegan & gluten-free

Expected delivery:05.12.2023 - 09.12.2023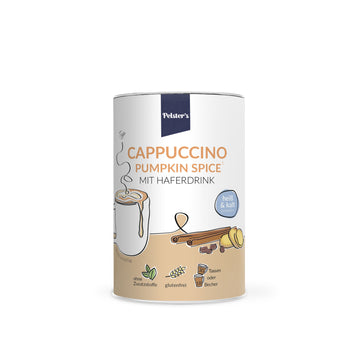 Cappuccino pumpkin spice with oat drink
Beschreibung

Zutaten & Nährwerte

Zubereitung & Hinweise

Zahlung & Versand
The absolute fall trend is back: our cappuccino type Pumpkin Spice - slightly sweetened with organic coconut blossom sugar and a spice blend of cinnamon, ginger, cardamom, nutmeg, allspice and cloves tailored to the fine coffee.
Simply mix the powder with hot water and enjoy. If you want to pimp our instant cappuccino visually, you can simply froth it and sprinkle it with the cappuccino powder.

✓ particularly creamy & very easy to foam
✓ one can contains 30 cups of cappuccino

✓ 30% less sugar than other comparable instant cappuccinos
✓ vegan & gluten-free
✓ free of additives
✓ 400 g powder/can
Only selected, high-quality raw materials are used in the development and manufacture of our products. We pay attention to keeping supply chains as short as possible. In addition, we only ship climate-neutrally with DHL GoGreen.
Zahlungsmethoden
Versand
Wir liefern ausschließlich versichert, nachverfolgbar und klimaneutral mit DHL GoGreen.
Deine Bestellung wird bei uns schnellstmöglich bearbeitet. Eine Lieferanschrift kannst du bei der Bestellung angeben. Sobald deine Bestellung auf dem Weg zu dir ist, erhältst du von DHL eine E-Mail inklusive Link zur Sendungsverfolgung. Beachte allerdings, dass die Lieferzeiten während bestimmter Aktionen oder Feiertage abweichen können.
Der Versand innerhalb Deutschlands kostet 4,95€. Ab einem Bestellwert von 49€ ist der Versand kostenlos. Die Lieferzeit beträgt in der Regel 1-3 Werktage.
Österreich
Der Versand nach Österreich kostet 7,95€. Ab einem Bestellwert von 59€ ist der Versand kostenlos. Die Lieferzeit beträgt in der Regel 3-7 Werktage.
Niederlande, Belgien, Frankreich, Polen & Luxemburg
Der Versand kostet 12,95€. Ab einem Bestellwert von 79€ ist der Versand kostenlos. Die Lieferzeit beträgt in der Regel 3-10 Werktage.
Italien, Spanien, Portugal & Griechenland
Der Versand kostet 14,95€. Ab einem Bestellwert von 79€ ist der Versand kostenlos. Die Lieferzeit beträgt in der Regel 4-14 Werktage.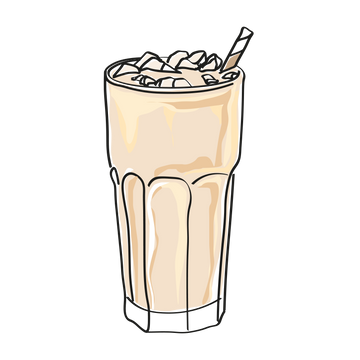 Coffee flavor profile.
Our freeze-dried coffee is a soluble premium coffee that is only made from freshly roasted and ground coffee. It is a strong, characterful coffee that is dominated by bitter, spicy aromas that suggest clove and nutmeg. The acid stays discreetly in the background, so that a pronounced bitterness in combination with a creamy, strong body takes its place and ensures a long-lasting taste.
Ideal for all coffee lovers who enjoy their coffee with milk and therefore perfect for our instant cappuccinos with oat drink!
With selected ingredients.
All of our products contain selected natural ingredients and impress with their ideal solubility. Simply pour cappuccino powder with hot water, stir and you're done.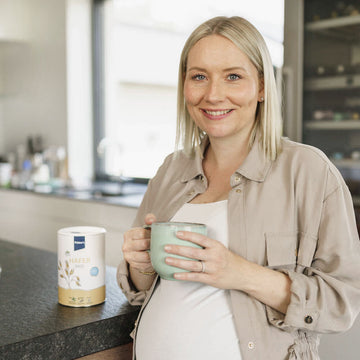 For your personal me time.
Whether for breakfast, as part of your morning routine, a short afternoon break in your stressful work routine or for your time out as a momager... our cappuccinos are always quickly prepared and not only make your everyday life easier, but also give you a special moment of peace and enjoyment.
Information about our Instant Cappuccino Pumpkin Spice
How many servings of cappuccino can I get from a can?
A can of cappuccino contains approximately 30 cups or 18 cups of cappuccino.
What does "hot, no longer boiling water" mean?
We recommend a temperature of around 85 degrees Celsius for mixing our drink.
How long can I store the cappuccino after opening?
If you always make sure that the cappuccino is stored in a dry and dark place, the powder will last for several months even when opened. The best-before date serves as a guideline. But food can often be enjoyed for a longer period of time, which is why we recommend "look, smell and try".
Where are the products made?
Our products are developed and manufactured in Germany, meaning they are "Made in Germany". Here we work with renowned German food companies and always pay attention to the highest raw material quality. Find out more here .
Is the cappuccino suitable for children?
Our cappuccino drinks contain instant coffee beans and therefore caffeine. That's why our cappuccinos are not suitable for children.
How much caffeine does Pumpkin Spice cappuccino contain?
100 g of pure cappuccino type pumpkin spice powder contains approximately 252 mg of caffeine, i.e. a cup of cappuccino type pumpkin spice contains approximately 33 mg of caffeine.