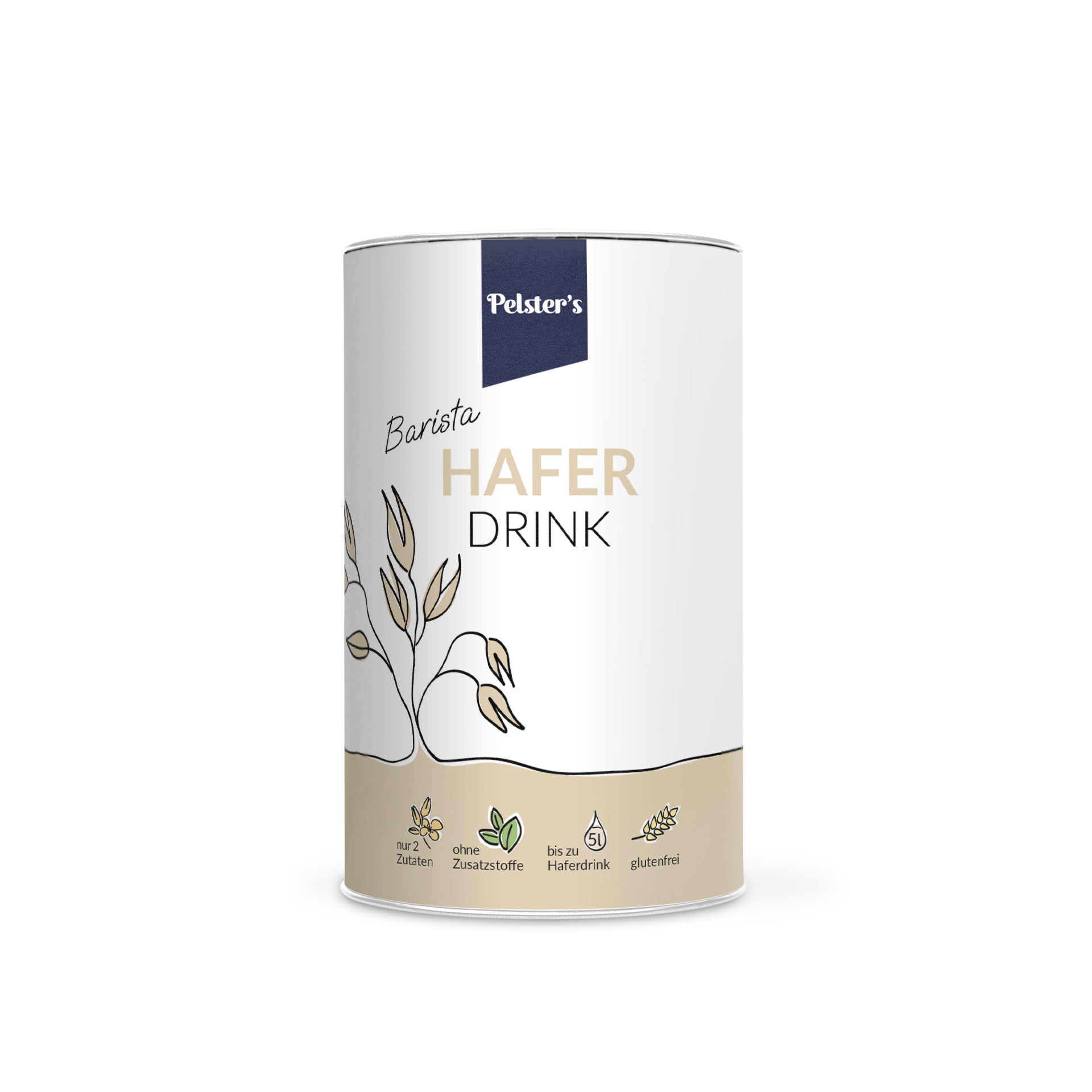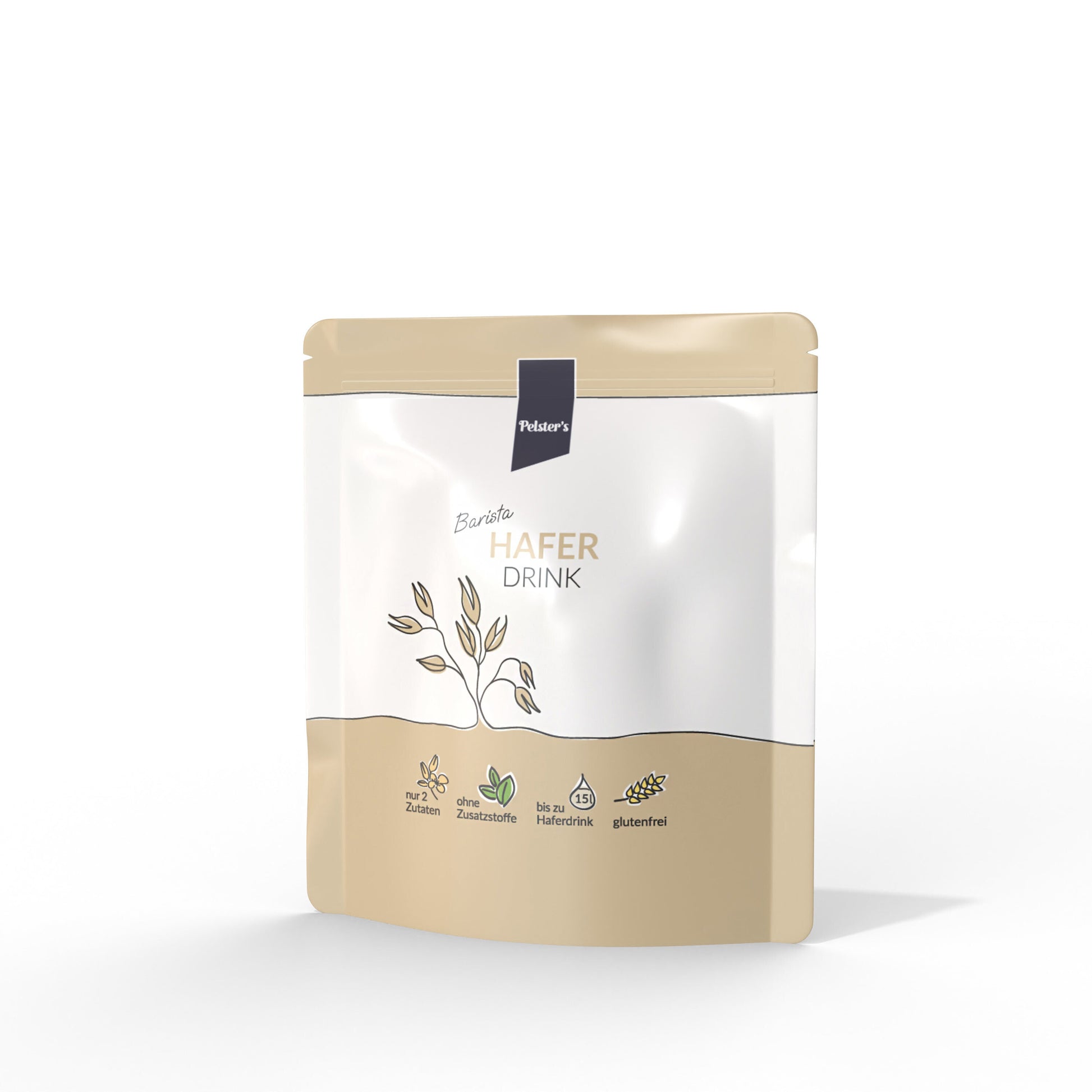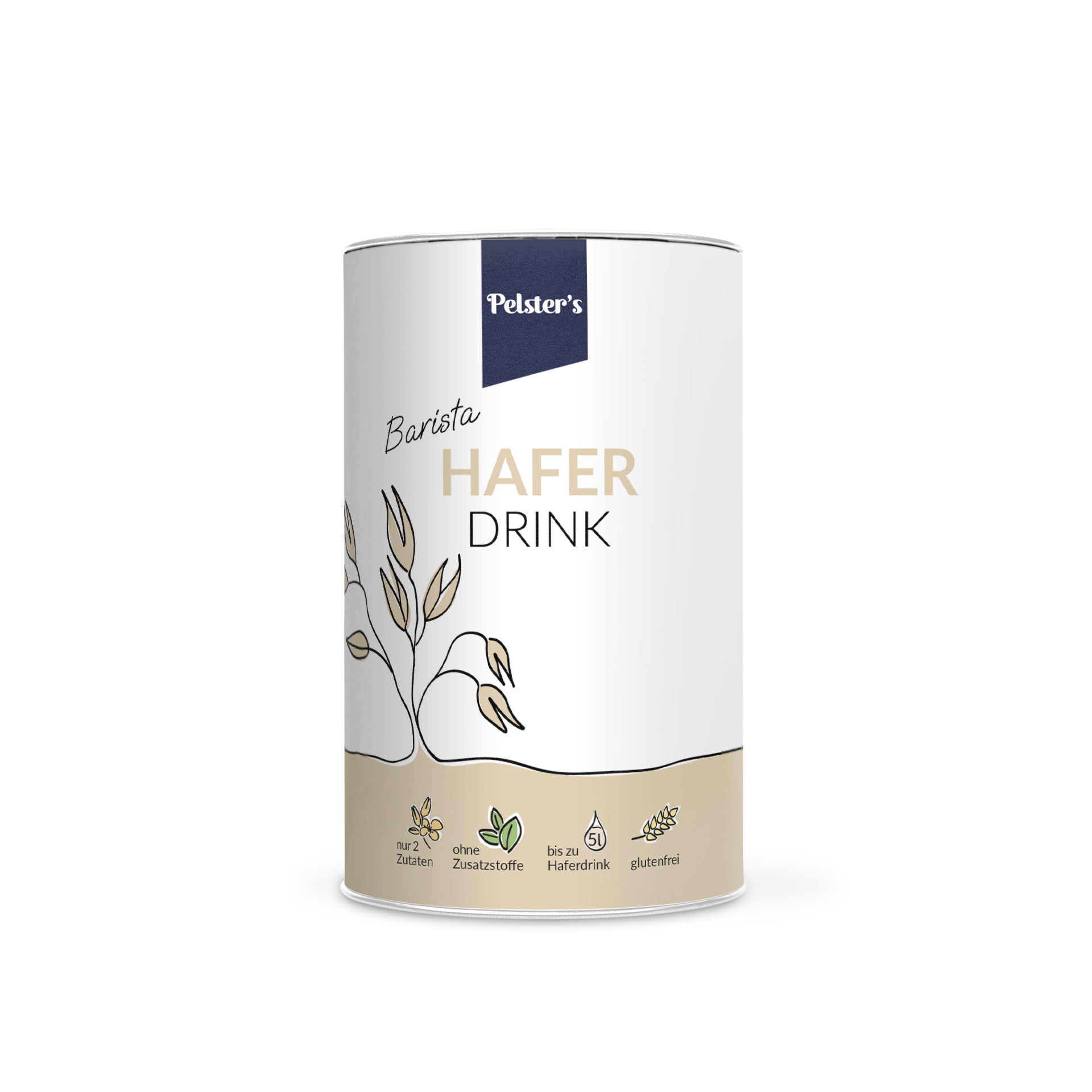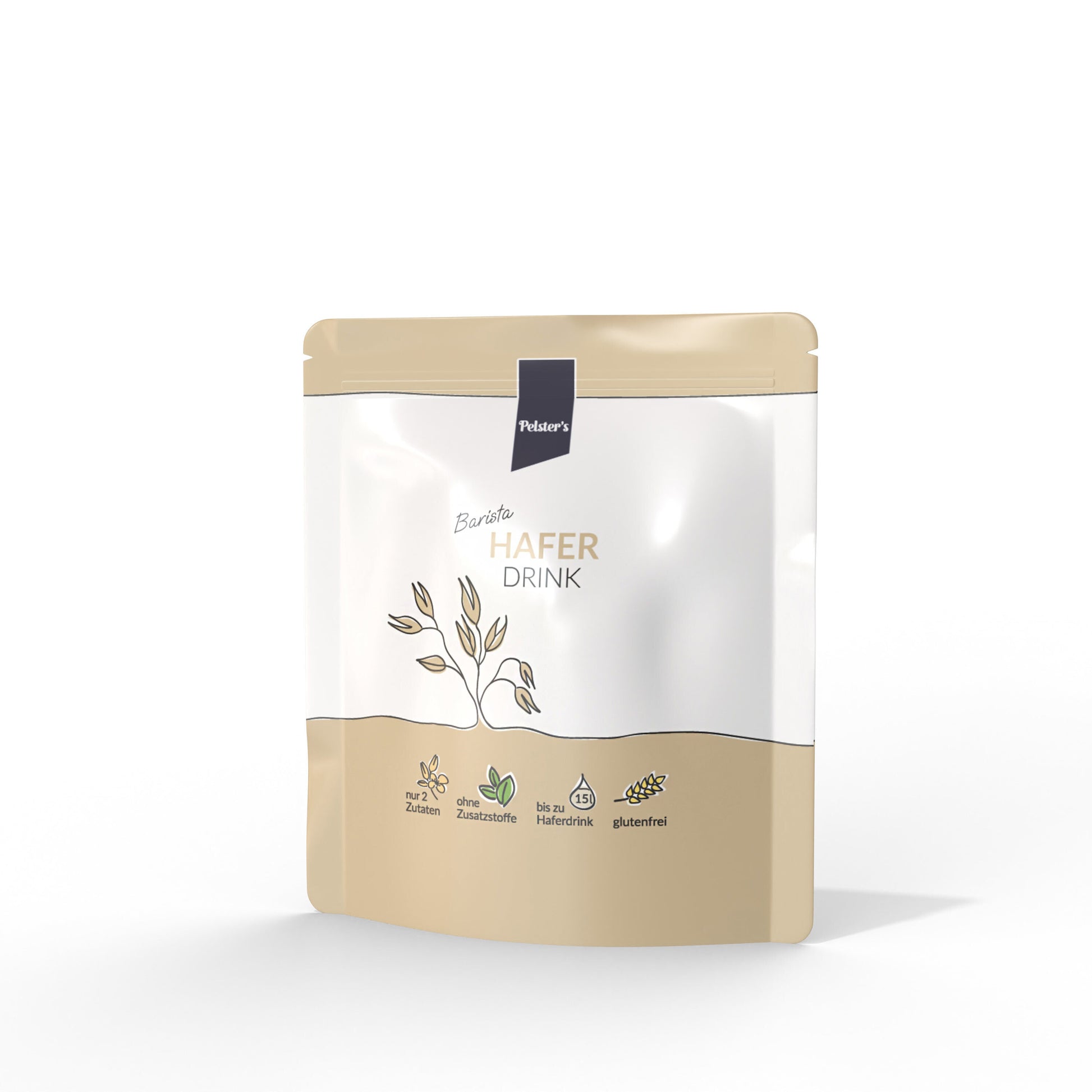 Barista Oat Drink Powder (formerly Signature Oat Base)
Sale price
11,95 €
Regular price
11,95 €
Tax included.
✓ free from additives
✓ without added sugar
✓ vegan & gluten-free
✓ from €1.99 per liter
✓ reduces packaging waste and food waste

Expected delivery:05.12.2023 - 09.12.2023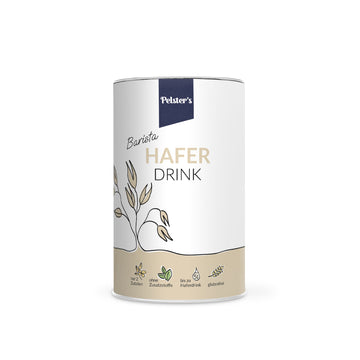 Barista Oat Drink Powder (formerly Signature Oat Base)
Beschreibung

Zutaten & Nährwerte

Zubereitung & Hinweise

Zahlung & Versand
Our Barista Oat Drink : the first oat drink powder that combines oats with rapeseed oil. The mixed oat drink has a fat content of 1.7% fat. The rapeseed oil makes this oat drink taste particularly full-bodied and creamy. Pelster's answer to oat barista without additives . Simply mix the powder with water and enjoy - it couldn't be fresher or more natural .
Due to our special and innovative production method Oats and rapeseed oil combine perfectly and dissolve in water in no time. The unique thing is that the oats and oil in the mixed drink do not settle unsightly at the bottom or on the surface, but despite it Avoid emulsifiers stay connected. Our Barista oat drink also flakes without acidity regulators not in coffee.
✓ particularly creamy & very easy to foam
✓ without additives ( without acidity regulators, emulsifiers and stabilizers)

✓ without added sugar*
✓ vegan & gluten-free
✓ only mix as much as you need and reduce food waste

Packaging options:
- 500 g powder/can makes up to 5 L oat drink
- 1,500 g powder/bag makes up to 15 L oat drink

Recommended use: Round off your chai, matcha or coffee with our Barista oat drink. It conjures up wonderfully creamy milk foam, even without additives. A milk alternative that is suitable for every purpose.
A little tip: The powder can also be perfectly stirred directly into your coffee.
* Oats naturally contain sugar
Zahlungsmethoden
Versand
Wir liefern ausschließlich versichert, nachverfolgbar und klimaneutral mit DHL GoGreen.
Deine Bestellung wird bei uns schnellstmöglich bearbeitet. Eine Lieferanschrift kannst du bei der Bestellung angeben. Sobald deine Bestellung auf dem Weg zu dir ist, erhältst du von DHL eine E-Mail inklusive Link zur Sendungsverfolgung. Beachte allerdings, dass die Lieferzeiten während bestimmter Aktionen oder Feiertage abweichen können.
Der Versand innerhalb Deutschlands kostet 4,95€. Ab einem Bestellwert von 49€ ist der Versand kostenlos. Die Lieferzeit beträgt in der Regel 1-3 Werktage.
Österreich
Der Versand nach Österreich kostet 7,95€. Ab einem Bestellwert von 59€ ist der Versand kostenlos. Die Lieferzeit beträgt in der Regel 3-7 Werktage.
Niederlande, Belgien, Frankreich, Polen & Luxemburg
Der Versand kostet 12,95€. Ab einem Bestellwert von 79€ ist der Versand kostenlos. Die Lieferzeit beträgt in der Regel 3-10 Werktage.
Italien, Spanien, Portugal & Griechenland
Der Versand kostet 14,95€. Ab einem Bestellwert von 79€ ist der Versand kostenlos. Die Lieferzeit beträgt in der Regel 4-14 Werktage.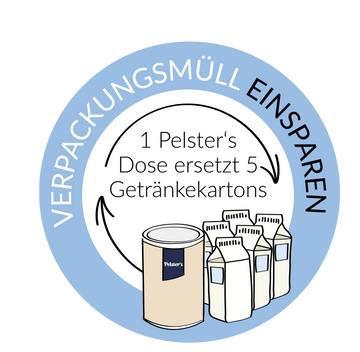 Sustainability.
With our innovative oat drink powders you can minimize your ecological footprint. Because you reduce food waste, packaging waste and transport volumes in the supply chains of conventional oat drinks in beverage cartons. This not only saves Co2 but also saves you the hassle of lugging around - win, win!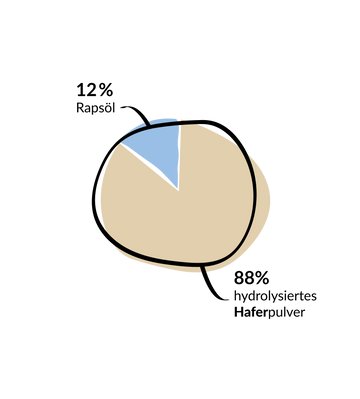 Only 2 ingredients.
Our Barista oat drink powder contains only two selected ingredients with which you can conjure up a particularly creamy and delicious drink. Even without additives, it is optimally soluble, wonderfully foamable and does not flake in coffee.
Information about Pelster's Barista oat drink
How much oat drink can I get from a can of Barista oat drink?
With one can of Barista oat drink you can make up to 5 liters of oat drink! This not only saves annoying lugging and space, but also saves packaging waste.
What is the difference between the Signature Oat Base and the Barista Oat Drink?
It is the same product, with our proven Pelster's recipe. Developed in 2021 and launched on the market in 2022 as Signature Oat Base, we have now decided to change the name to Barista Oat Drink.
What can I use the Barista oat drink for?
The special thing about the Barista oat drink: It is the first oat drink powder that contains vegetable fat. This makes the Barista oat drink particularly creamy. It was developed based on the nutritional values ​​of low-fat cow's milk and is therefore suitable for every conceivable application. We particularly like the Barista oat drink frothed in coffee or with muesli. Simply mix 20 g of the oat drink powder with 200 ml of water and process as desired.
Can I froth the Barista oat drink?
That's what's special about our Barista oat drink, because it's very suitable for frothing! Simply mix 20 g of the oat drink powder with 200 ml of water and froth in the coffee machine or with the electric milk frother. Et voila, nothing stands in the way of your coffee enjoyment!
How do I get the perfect foam?
Here are our tips for the perfect fine-pored foam:
1. The right mixture makes all the difference: 1 tbsp powder to 100ml water.
2. The colder the product, the easier it is to foam. This is even the case with cow's milk. It's best to mix the drink with cold water or store it in the refrigerator for a while after mixing. In addition, the frother should not be too hot in advance.
3. It is also an advantage if the specified minimum amount of frother is adhered to. This is usually around 200 ml.
Is the quality of the water relevant to the taste of the Barista oat drink?
The quality of tap water is one of the most strictly regulated things in Germany. So just decide which water you like best. Friendly reminder: Tap water is much more sustainable than bottled water. Of course, you can also use pre-packaged water.
Shake or stir - which is better?
Whether shaken or stirred, the Barista oat drink dissolves after a few seconds. We recommend making it in a shaker. However, you can achieve the fastest result by mixing in a shaker. If the water is particularly cold and there are lumps left, let the drink sit for a few minutes and stir or shake again.
Can I also use warm water for the Barista oat drink?
The Barista oat drink also dissolves excellently in warm water. Simply add 20 g of the oat drink powder to 200 ml of water and mix well. Et voila, your Barista oat drink is ready.
How long can I store the Barista oat drink after opening?
If you always make sure that the Barista oat drink is stored in a dry and dark place, it will last for several months even when opened. The best-before date serves as a guideline. But food can often be enjoyed for a longer period of time, which is why we recommend "look, smell and try".
What are the nutritional values?
When it comes to the nutritional values ​​of our products, we pay attention to a healthy mix of content and taste. You can find the nutritional values ​​directly above in the product description.
Where do the raw materials come from?
When sourcing raw materials, we pay particular attention to ensuring delivery routes are as short as possible. We prefer – if possible – regional products. However, due to seasonal fluctuations, this is not always possible, so we also source our raw materials from other EU countries. With exceptions, some ingredients also come from other countries. Find out more here .
Where are the products made?
Our products are developed and manufactured in Germany, meaning they are "Made in Germany". Here we work with renowned German food companies and always pay attention to the highest raw material quality. Find out more here .
What ingredients go into the Barista oat drink?
There are no frills in our cans. That's why we only use natural ingredients without chemical additives or flavor enhancers. You can find the exact composition directly in the product image above.
Is the Barista oat drink gluten-free?
Our Barista oat drink is gluten-free (<20 ppm) in accordance with Implementing Regulation EU 828/2014.